❤️⬇️ Help Us Grow ⬇️❤️
Whether you need one for streams or meetings, the best webcam offers good picture quality in any sort of lighting condition. Webcams should be able to handle an office or room that isn't professionally lit so that you won't have to supplement it with a bunch of other purchases. The webcams below do the job right and give you solid picture quality no matter the situation.
The big problem comes with the number of choices available today; it's hard to know which webcam is best suited for you.
If you're simply looking for the best picture quality at a reasonable price, the Logitech C922 HD Pro is a solid 1080p choice. If you're looking for more, the Elgato Facecam sits in the number one slot because, while it's flashy, it's also incredibly versatile and boasts superb picture quality.
Many of these webcams support 4K and 60 fps—both of which add to the price tag. These features aren't as important for office use as they are for a streamer. If you plan on broadcasting your webcam at full resolution or even squishing it down for streams, you want that extra resolution and frame rate. Streaming puts the most demand on a webcam to show tiny details and swift motion within the constraints of the limited bitrate and resolution of a typical Twitch or YouTube stream. You don't want your viewers to see a blur, and many of the webcam's we chose will prevent that.
If you're working on perfecting your streaming set-up, it's also worth checking out our guides for the best capture cards as well as the best microphone for streaming.
Whether you're simply recording yourself, streaming on Twitch, or conferencing with friends or colleagues on Zoom, the best webcams will provide a crystal clear picture for all to enjoy. So here are the best options.
Best webcams
Image 1 of 3
Image 2 of 3
Image 3 of 3
Elgato's debut webcam, the Facecam, has everything a serious streamer wants. Its picture quality rivals the impressive Logitech StreamCam, which sat at our number one spot for most of the year. While it lacks some of the quality of life features for content creators, the Facecam offers uncompressed 1080p 60 fps video, which provides the cleanest video you can ask for when streaming on Twitch or Youtube.
The Elgato Facecam's Camera Hub software is easy to use and lets you adjust contrast, exposure, and FOV even while you're in the middle of using the camera, which is a big plus. If you can handle the $200 price tag, the Facecam will give the best image settings you want with very little work.
Check out our full Elgato Facecam review.
Image 1 of 3
Image 2 of 3
Image 3 of 3
The StreamCam was designed with content creators in mind, as it can easily switch from landscape to portrait by merely rotating the camera. The smart autofocus and exposure take a lot of the guesswork out of setting up the perfect shot too. Logitech essentially made a better, upgraded version of the C922. The fact it records at a steady 1080p at 60 fps means this webcam will help produce some genuinely great-looking video. The StreamCam manages to focus consistently, even in low-light environments, like a bedroom or a closet. We don't judge here.
Even though the StreamCam is one of the pricier non-4K options out there, the picture quality alone is worth every penny, especially if you're serious about your game streams or video content. The only knock against is that the attached USB Type-C cable is on the shorter side.
Read our full Logitech StreamCam review.
Image 1 of 2
Image 2 of 2
Most readers can stop here. Unless you're looking for specific features in a webcam, then there is no better value than the Logitech C922 HD Pro. Its sharp 1080p images, paired with a wide field of view and great autofocus, make it a fantastic video conferencing choice. Low-light performance is great; the noise level didn't shoot through the roof when I turned off a few lights. White balancing was accurate most of the time, too, although the default saturation can make the scene look a little washed out in bright lighting conditions.
Most of the settings can be adjusted through Logitech's Camera App. Streamers should also appreciate C922's excellent compatibility with the background replacement app, ChromaCam. All in all, the Logitech C920 performs its core duties exceptionally well and won't break the bank.
For streamers, the C922 is a perfect webcam to get started since you can track on down for less $100 at most retailers.
Image 1 of 3
Image 2 of 3
Image 3 of 3
The most important factor when it comes to video image quality is lighting. Good lighting can reduce the need for exposure compensation and curb noise. The Razer Kiyo Pro has an adaptive light sensor, making it suitable for any lighting condition, even pitch black. It's pretty good if you stream out of a bedroom or any place where you can't rely on decent lighting.
The Kiyo's 1080p sensor boasts excellent sharpness and captures plenty of detail. Autofocusing is speedy and its white balance is on point, too. Out of all the webcams I've tested, the Razer Kiyo has the highest color saturation. When lighting is good, it can help add a great deal of vividness to your images. In darker scenes, however, the saturation boost can make images look pastel-like. We also noticed at wider FOVs, the image takes on a weird fish-eyes quality which might be a bit too distracting for your viewers.
Read our full Razer Kiyo Pro review.
Image 1 of 4
Image 2 of 4
Image 3 of 4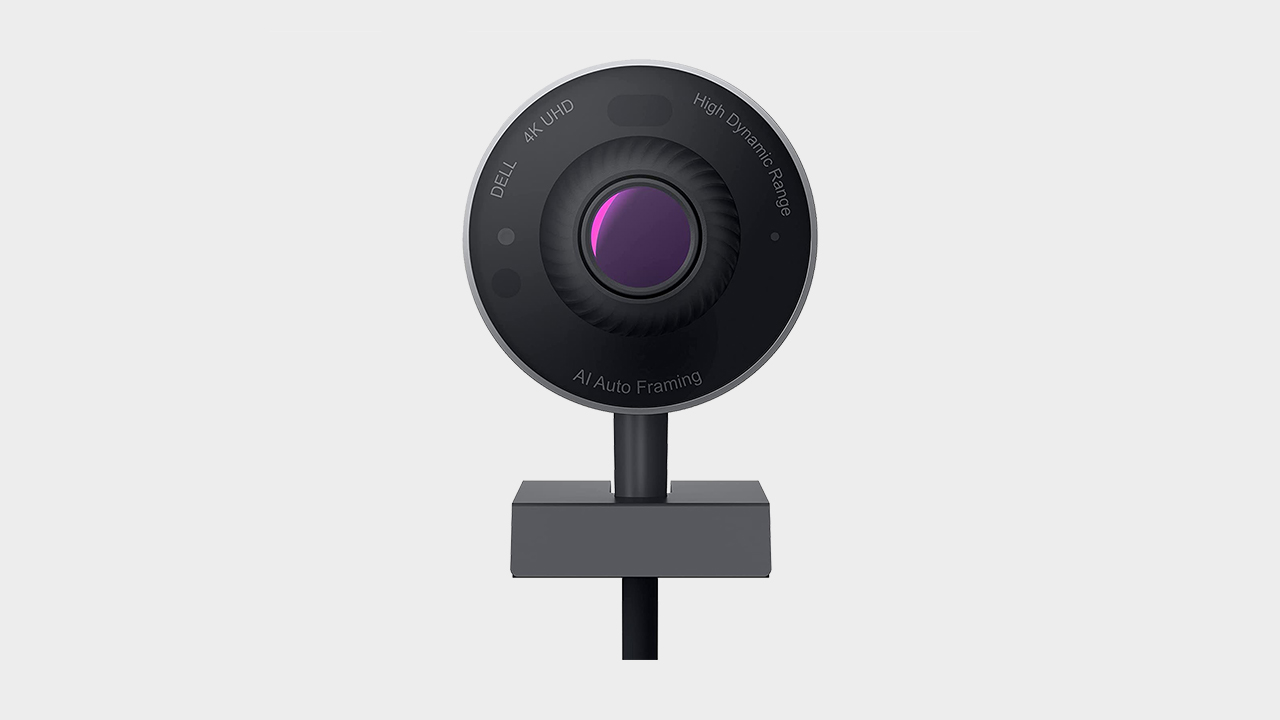 Image 4 of 4
Best gaming keyboard | Best graphics cards | Best gaming headset
Best controller for PC gaming | Best gaming PC | Best mechanical keyboard
It takes a lot to knock the Logitech BRIO off its 4K throne, but the Dell UltraSharp WB7022 4K webcam does just that. Dell's new webcam is one of the best 4K webcams you can buy.
The Dell UltraSharp 4K webcam offers a lot of premium features for only $200. On top of being 4K at 30 fps, you've got HDR support and even AI-powered auto framing. As expected, UltraSharp's support for 4K recording gives it videos and pictures wild impressive detail over your standard 1080p webcam. Its 90-degree field of view can easily capture your entire room and any pets asleep in the corner of your shot.
The UltraSharp works well in poorly lit or overexposed rooms. You should note that if you're only using this for work calls, the webcam's picture quality might be nerfed by certain apps like Meet or even Zoom, as you will fall victim to those platforms' video compression.
In addition to its excellent capturing resolution, the UltraSharp webcam supports HDR capturing. This means that viewers who have an HDR-compatible screen will be able to enjoy richer, more vivid colors.
The UltraSharp isn't perfect, though. Its out-of-box monitor stand doesn't let you rotate the webcam only up and down, tilting, making for awkward camera angles. There's also no built-in microphone which could be a deal-breaker for some content creators though most webcam mics are so bad, I doubt you'd miss it. We also noticed the camera itself gets hot after using it for more than 20 minutes.
The Dell Ultrasharp is not just one of the best 4K webcams out there, but it's one of the best webcams you can pick up. Its weird monitor stand and lack of mic don't make it as versatile as other webcams, which is why it's not higher on the list. Though, its image quality and easy-to-use software make it a strong contender.
You might not have heard of ClearOne as the company tends to focus its efforts on office conference rooms. Outside intense (and expensive) teleconferencing gear, ClearOne also makes a pretty decent 1080p webcam for at-home streaming or video-chatting under $100.
The Unite 20 Pro offers a wide 120-degree field of view, which means you can fit a lot more into your frame than most webcams. Great, if you're trying to stream a large group for a DnD session or want to fit your entire band for a Twitch performance. Not so great if you're trying to hide a messy bedroom on your morning video call with your boss.
Best webcams FAQ
How are these webcams tested?
Discord's video conferencing feature has taken the world by storm. As such, we've included it in our testing software suite alongside Skype. In both apps, we test the video quality at the maximum supported resolution. OBS is still our choice go-to app for streaming and video recording, while images are captured in the default Windows Camera app.
We used OBS to stream and record videos from each camera, testing them both fullscreen and scaled down to a "face cam" size. We also used each manufacturer's webcam software to take the highest possible resolution pictures with each and manually adjusted settings like white balance, brightness, auto-focus, and others where applicable. Each of these situations was tested with multiple lighting setups, from overhead fluorescent bulbs to nothing but the monitor's glow in front of me.
The process of selecting the right webcam is much like choosing a good camera. Most of the metrics we use to determine camera quality also apply to webcams. You should pay attention to the image quality, color accuracy, focus speed, and customizable features. Although many of us have dedicated microphones, the onboard microphone can come in handy too.
One of the greatest determiners of image quality is the amount of noise present in an image. When lighting is ample, most webcams have no trouble producing good image quality. The extra quality of the best webcams is more accurately reflected in low light; however, the camera needs to compensate for the lack of light digitally. Generally speaking, more expensive webcams come with higher quality sensors and usually have less pesky color blots compared to cheaper ones.
The other crucial aspect is the color of the images. Before we even begin to examine the color quality, we should pay attention to the white balance. White balance gauges the temperature of the lighting from your surrounding environment and sets the white point accordingly. If the white point is incorrectly set, the image may be masked with a blue or yellow tint. Unless a tuning utility is included, the white balance is usually automatically adjusted by the webcam's processor.
Next is exposure, saturation, and contrast—all three are equally important. Exposure is the brightness of the image, saturation is the depth of the colors, and contrast is the difference between black and white. Brightness ensures that you can be seen clearly, while saturation and contrast make your images pop. Again, unless the software is included, these settings are normally adjusted automatically by the webcam's processor. More expensive webcams are more adept at replicating the most accurate scene.
Some webcams also have built-in microphones, which we test by recording a short video in our studio or home offices.
Software for webcams is just as critical—if not more so—than other peripherals. Although many streaming and conferencing apps have built-in adjustment options, using the manufacturer's driver software allows you to adjust the settings globally.
Aside from the video quality, I also took a look at their ease of use. Each manufacturer has a different method of attaching a webcam to the monitor, so I tested them across different monitor shapes and sizes. I considered whether the webcam cord was long enough to reach from the top of a monitor to a case underneath a desk. I tested how easy they were to angle, readjust, and if they would fall off or reposition themselves if I bumped the desk. I tested the plug-n-play nature of them and noted whether the webcams downloaded drivers or software automatically. Lastly, I recorded audio with their built-in microphones, but this was not a heavily influencing factor as a webcam should be bought with video in mind first.
What resolution webcam do I need?
If you're planning to record at full screen resolution, you may want to look at a 4K webcam. However, if you're planning on streaming, or keep your webcam confined to only a small portion of your screen, it's likely the improved resolution will be lost on you. In that case, you're probably best investing in improved lighting for a proper glow up.
Go to Source
Author:
❤️⬇️ Help Us Grow ⬇️❤️