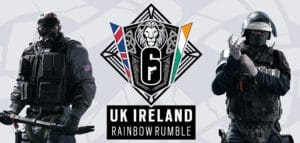 Ubisoft has announced the 2021 UKIN (UK Ireland Nationals) Rainbow Rumble, a multi-stage Rainbow Six Siege tournament featuring a £25,000 prize pot.
The tournament will take place over several months and promises to feature 'hundreds of hours of top level esports action'.
The event begins on Saturday October 30th, where teams from across the UK, Ireland and Europe will take part in two qualifying tournaments over two weeks.
The top four teams in each qualifier will make it to the group stage.
Continue reading Rainbow Six Siege UKIN Rainbow Rumble will feature £25,000 in prizing for teams in the UK, Ireland and Europe